AVR-BN207
2022-08-30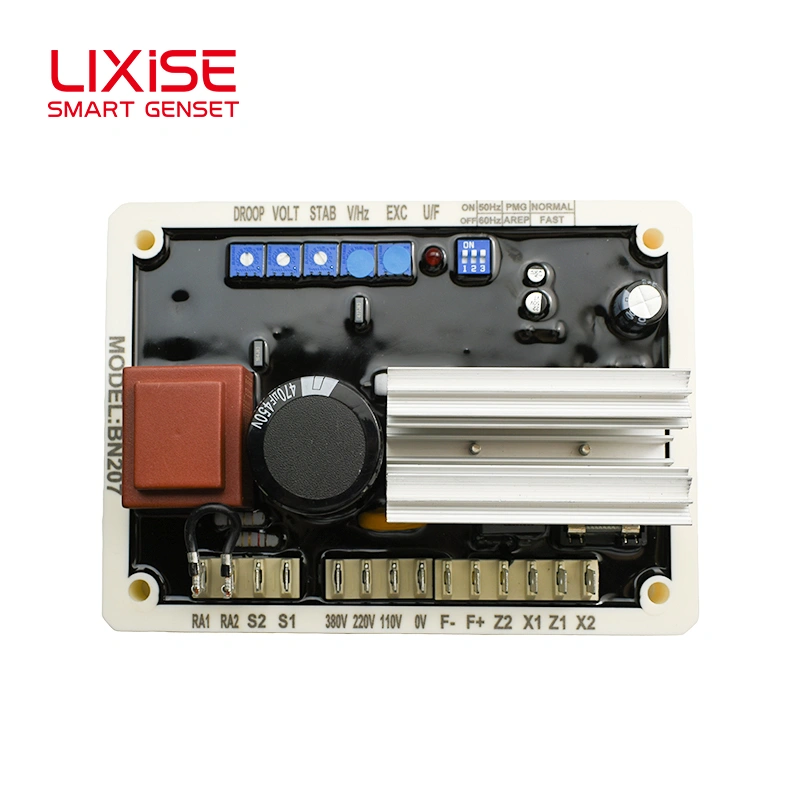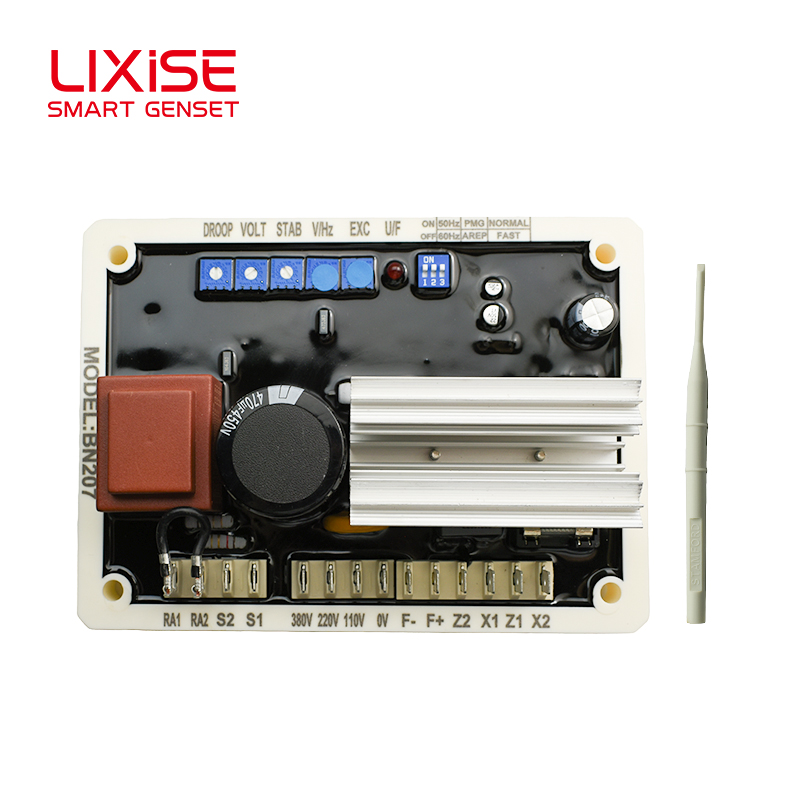 BN207 is an AC generator voltage regulator that can be supplied with power by fundamental wave auxiliary winding, harmonic auxiliary winding, PMG permanent magnet machine or generator self excitation. After rectification and filtering, the power supply voltage is pulse width modulated by IGBT. This design enables the output of AVR to remain linear and will not be affected by load distortion.
The power supply and voltage detection of AVR adopt independent terminal blocks. The excitation power can be directly supplied by the main stator winding. When there is a requirement for continuous short-circuit current, the power can be supplied from the PMG permanent magnet machine or the auxiliary winding (the fundamental wave auxiliary winding or harmonic auxiliary winding is allowed). The voltage detection signal is obtained through the isolation transformer, which can effectively suppress the influence of conducted noise and nonlinear load distortion on the voltage detection accuracy. The voltage detection terminal of AVR continuously samples the output terminal of generator winding. The excitation current of the generator is adjusted according to the obtained sampling data, and the output is adjusted twice in each cycle, which improves the response speed of the generator to load changes and significantly improves the transient load capacity of the generator.
BN207 AVR has the functions of excitation system low-frequency protection and over excitation protection. The 50Hz or 60Hz mode can be conveniently selected through the jumper, and the over excitation protection limit can be set according to the generator parameters.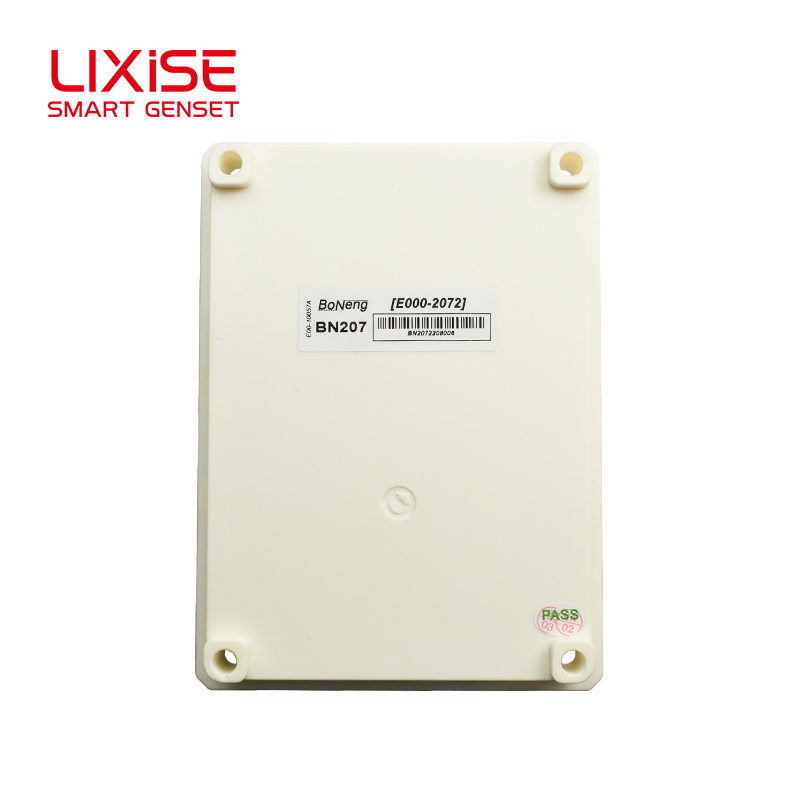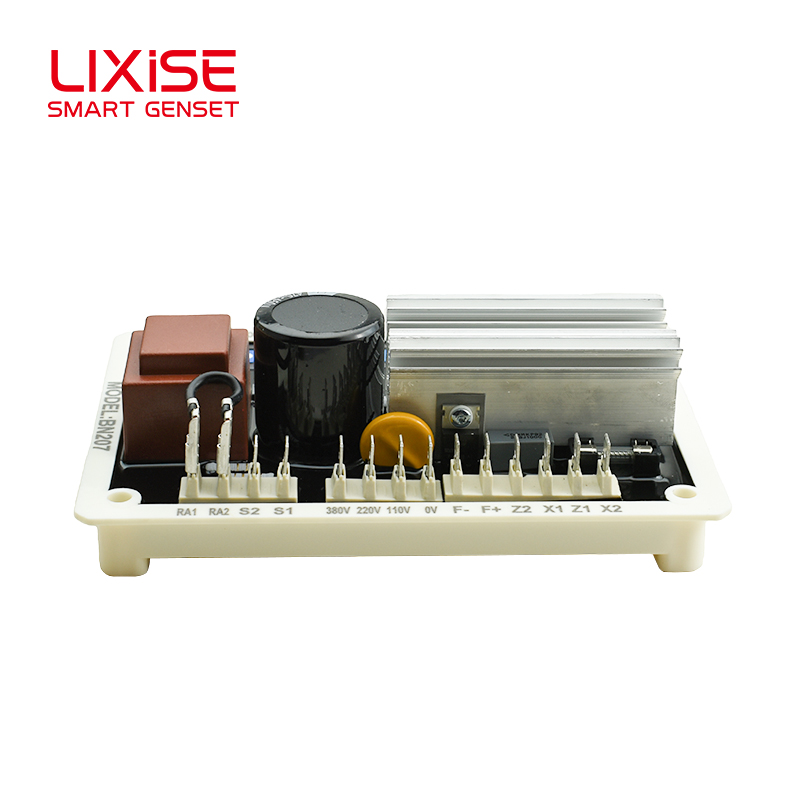 Parameter description

Detection input : voltage 95 ~ 528vac two-phase
                            Frequency 50Hz-60Hz (general)

Power input : voltage 170 ~ 220 VAC, three-phase, three wire
                      Fuse 6A slow 250V

Frequency : 50 ~ 400Hz

Output : voltage when the input voltage is 200Vac, the maximum output DC is 164v
              Current continuous output is 6a, allowing 10A instantaneous current for 10s
              The minimum value of excitation resistance is 15 Ω (the minimum value is 9 Ω when the power supply voltage is lower than 65V)

Adjustment accuracy : ± 0.5%

Thermal drift : AVR ambient temperature changes by 1 C, and the drift value is 0.01%

Low frequency protection : set protection point 92-94% of rated frequency

Over excitation protection : setting range 3 ~ 6.3A, factory setting 4A
                                             Delay 8-10s (fixed)