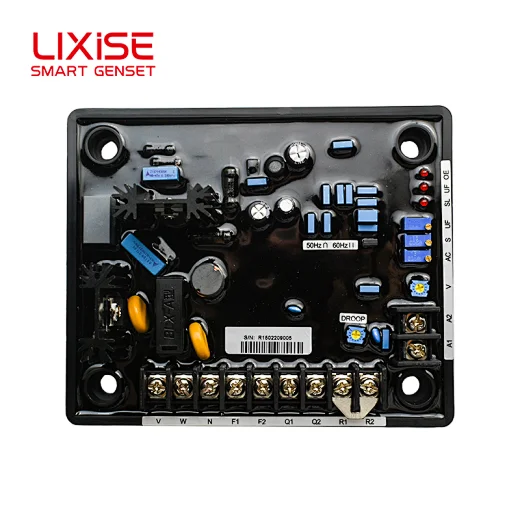 Introduction:
Automatic voltage regulator (AVR) is a compact, high-performance packaging unit. AVR adopts the latest technology and efficient semiconductor to achieve high miniaturization to 3 Ø and 1 Ø AC brushless generators in application. Its input and output limits provide excellent reliability.
The terminal voltage of excitation field from AVR to brushless generator is from no-load to full load. The recovery time for a sudden load is. It may recover 98% in about 0.5 seconds. Half of the rated voltage. Please note that the transient performance, such as voltage sag and recovery time, mainly depends on the design parameters of the generator and exciter. The best performance of the regulator can be about 60V DC by maintaining full load excitation. The generator adopts the true average value.
Sensor circuit, dV/dt buffer and special filter circuit load to deal with nonlinearity, such as battery charger, DC driver, etc. Only the voltage regulation is guaranteed for linear loading.
Parameters:
1) Sensing input
Voltage: 1-phase 240 V AC ± 10%, 380 V to 480 V AC ± 10%, 3-phase, 2
Line induction AVR induction line to line waveform. A resistor (SMD) network is used for fault free detection and control of sensing voltage/regulation.
2) Input power
Voltage: 3-phase 415V, 1-phase 240V
stage
Frequency: 50/60 Hz
3) Output power
Voltage: 105 V DC at 240 V AC input
Current:
• 6 Amps DC continuous
• 8 amps for 30 seconds. (Resistance when field allows)
4) Operating temperature: - 20 º C to+70 º C
5) Storage temperature: - 40 º C to+80 º C
6) Voltage regulation: minimum ± 10% voltage of rated value
7) Stability regulation: adjustable to obtain stable and stable transient response
8) Remote voltage regulation: set ± 10% of terminal voltage (2W/2.5W, 1W potentiometer).
Detail drawing: