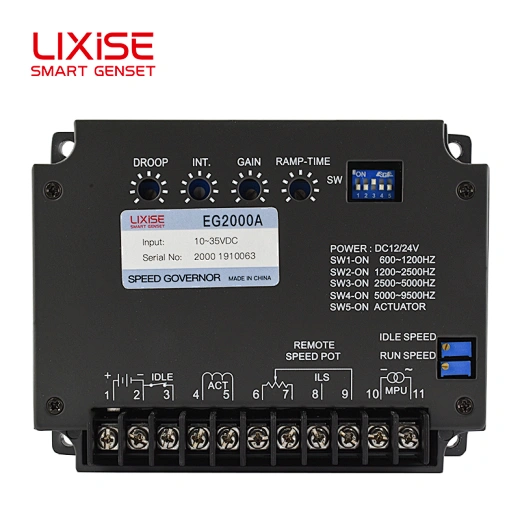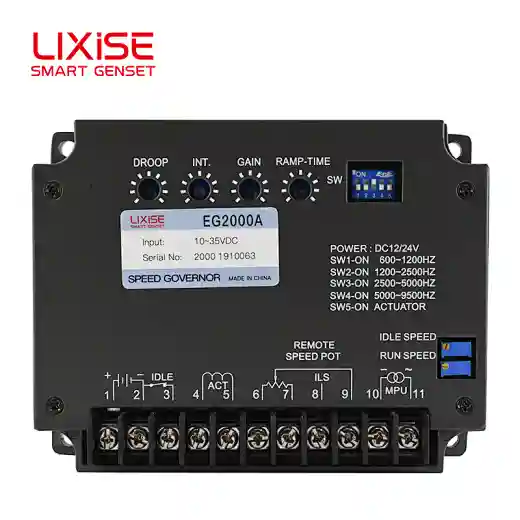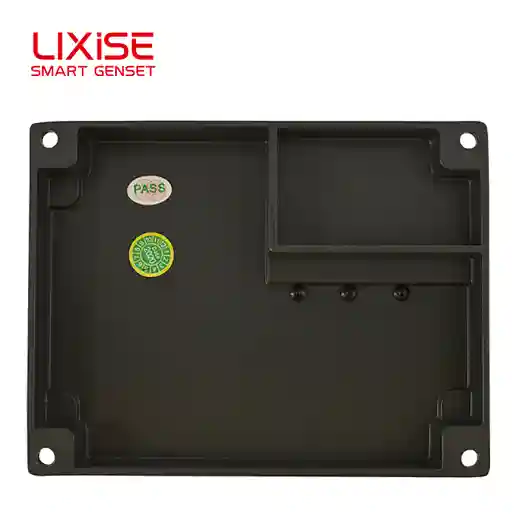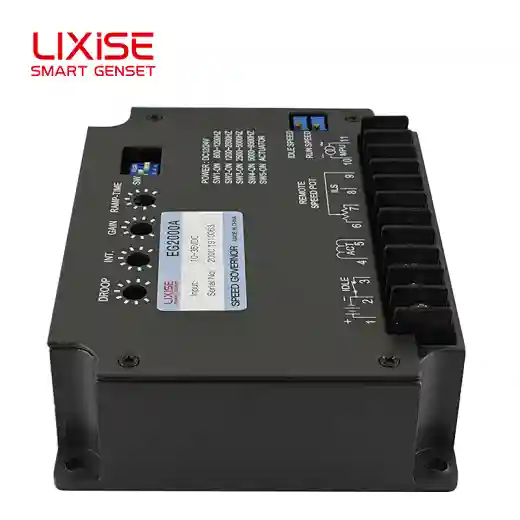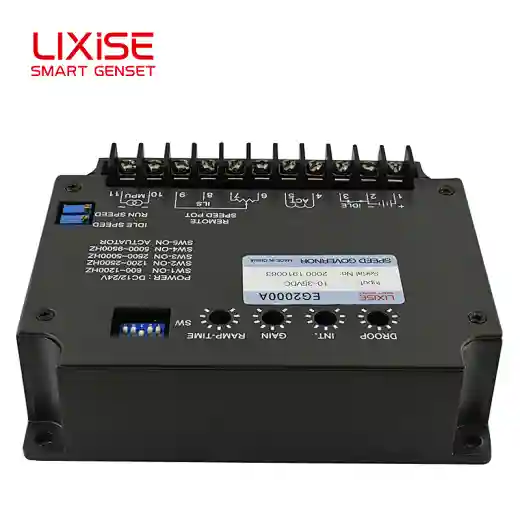 保修期:3个月-1年
认证:CE
原产地:中国广东
品牌名称:LIXiSE
型号:EG2000A
产品名称:发电机电子调速器
功能:调速器转速控制
重量:0.825kg
机身尺寸:14.7*11.4*5cm
试验温度:75度
颜色:灰色
用途:无刷发电机
材料:硬质橡胶底座
证书:ISO9001
包装:纸箱
EG2000A型柴油机电子调速器调速器
EG2000A提供可调节的怠速和斜坡,用于控制发动机冒烟、振动和预热。EG2000A控制器、执行器和MPU(磁性拾波器)共同构成电子发动机调速器总成。EG2000A接收来自MPU的信号,执行器根据发动机转速控制发动机上的燃油进气。EG2000A的电源来自发动机电池或与执行器电压匹配的额定电压为12或24 VDC±20%的交流到直流电源。平均工作电流约为2.5至3.5安培,但在发动机起动或负载突然变化期间可能达到15安培。
| | |
| --- | --- |
| | |
| | |
| | |
| | |
| Run Speed Adjustment range | Speed adjustment Potentiometer (30 turn) 4 Segment Dip Switch Adjustable From 600 ~ 9500 Hz. |
| Idle Speed Adjustment Range | |
| | |
| | Ext. Remote speed pot terminal 6, 7, 8 (ILS) and 6, 7, 9 connect a 5KΩ potentiometer ±5% adjustment range. |
| | |
| | |
| | |
| | |
| | Run Speed, Idle Speed, Ramp Time, Droop, Integration, Gain |
| | 1G @ 18 ~ 30 Hz, 2.5G @ 48 ~ 70 Hz |
| | |
| | |
| | |
| | 147mm L * 114mm W * 50mm H |
| | |
Packing Details : Packaging individual packing and standard export carton.
Delivery Details : reach most of the countries within 3 to 10 business days.
Special logistics packaging The packing box of each product is very strong to ensure that the product will not be damaged due to transportation.
Material: PE bag & Hard paper box. Size of box:15*15*6.5cm Size of carton :51*41*39cm 36pcs/carton
Dongguan Feirui Electronics Co., Ltd. is located in Donguan City, which is known as"the World's Factory"in China. We are engaged in developing and producing engine parts including starting controllers, speed control units, automatic voltage regulators (AVR), synchronizers, load share modules, and other correlative generator accessories, such as chargers, sensors, actuators and other related products. We have emulational system which is the most advanced in the same industry. The system can imitate the whole process of real generator. Therefore, we can control our quality with the precise testing equipment. On the other hand, we own some generator experts with rich experience in electromechanical automatic control system. Being good at soft ware & hard ware, these experts are trained by some well-known diesel engine factories. With about 10 years' experience and skill, we can supply the best technology support service. According to customers' requirements, we can develop some special products and supply OEM service. Due to our unremitting efforts for many years, we have set up wholesalers in Nigeria, Egypt, Thailand and Philippines. Following the ideal of"Quality First, Credit and Service is Our Belief", we strive for innovation to make satisfied generator parts. We expect to create more achievement tomorrow and welcome you to contact us for cooperation.
1. who are we?
We are based in Guangdong, China, start from 2007,sell to Domestic Market(38.53%),Mid East(22.29%),Africa(17.52%),Southeast Asia(10.83%),South America(5.10%),Eastern Europe(3.82%),South Asia(1.91%). There are total about 51-100 people in our office.

2. how can we guarantee quality?
Always a pre-production sample before mass production;
Always final Inspection before shipment;

3.what can you buy from us?
Generator avr,Generator Controller,Generator Speed governor,generator battery charger,Data Collector

4. why should you buy from us not from other suppliers?
Adhering to the faith of people-oriented and quality equals to life, Its staff is devoted themselves to create an intelligent generator era

5. what services can we provide?
Accepted Delivery Terms: FOB,CFR,CIF,EXW,Express Delivery;
Accepted Payment Currency:USD,EUR,CNY;
Accepted Payment Type: T/T,L/C,MoneyGram,Western Union,Cash;
Language Spoken:English,Chinese